Wellness Path Luxury
Luxury Wellness Route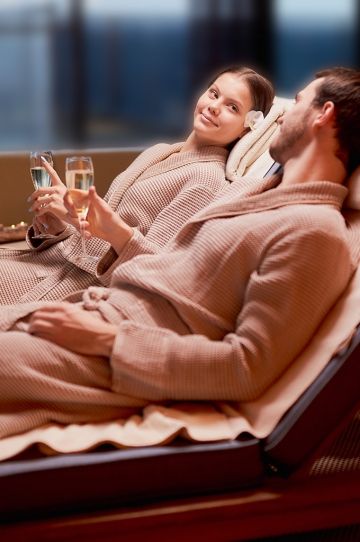 Treat yourself to two hours of intense wellness with exclusive use of the SPA area. Choose relaxation, indulge in pleasure.
With the exclusive use of the SPA area, you can enjoy the sauna with Aroma Therapy and the Turkish bath with body scrub in absolute peace and privacy. During the two-hour Luxury path, you will experience the great benefits of the whirlpool bath and Jacuzzi shower, with invigorating side body jets.
Forget the conventional concept of shower and bath and discover the extraordinary virtues of water.
The Luxury Wellness Path in Trapani is ideal for spending unique moments of relaxation and serenity with a loved one or friend.
During the journey, you can enjoy organic herbal teas offered by Salus, surrounded by an oasis of tranquillity. On the Luxury wellness path, guests are offered a combination of Prosecco and pastries.