About us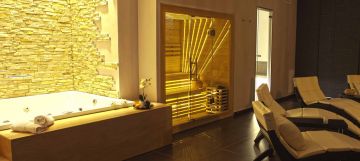 There is a fine thread linking aesthetics, wellness and beauty: the Salus team has found the balance.
The pursuit of well-being is for the 'Salus family' a work of synergy, commitment and passion. We are not in search of ephemeral beauty, we aspire to lasting beauty, to be renewed and enhanced.
Our aim is to make the Salus wellness centre in Trapani a point of excellence that combines mental and physical health. We have dreamed up a place for you that can transform time spent relaxing into a unique and memorable experience. To this formula we have added our expertise, passion and absolute dedication. We are convinced that a wellness centre should be created and managed from the heart. This is the starting point of our work; this is our mission!
Salus, Private Spa and Beauty, is the wellness centre where the customer is the absolute protagonist. This is why every room is designed down to the smallest detail in the image and likeness of his or her needs and on the basis of his or her benefits.
At Salus, we possess the secret to enhancing beauty, starting with the quality of time spent inside.