Turkish Bath and Jacuzzi Shower
Turkish bath and Jacuzzi shower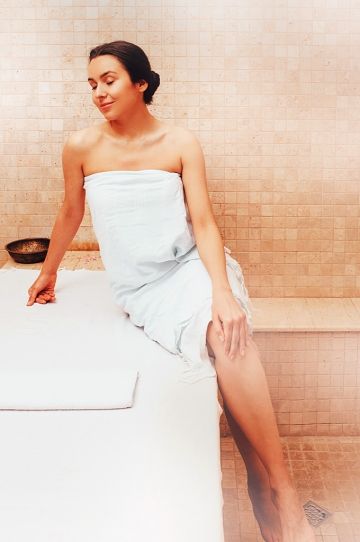 Inside the Turkish bath, you are enveloped in steam, which spreads upwards from below via special nozzles. The 30-minute journey includes the use of the Jacuzzi shower, with invigorating side body jets.
What are the benefits of a Turkish bath?
The dilation of blood vessels has a beneficial effect on the circulatory system.
Increased sweating leads to the opening of the skin's pores. The expulsion of toxins due to high temperatures stimulates the renewal of dead cells.
Tonic and relaxing effect.
It improves metabolism, facilitating the slimming process.
Relieves muscle soreness.
The benefits of the Turkish bath combined with those of the Jacuzzi shower will allow you to experience intense relaxation that starts in the body and spreads to the mind. Discover the benefits of hydrotherapy, sublimate your well-being.